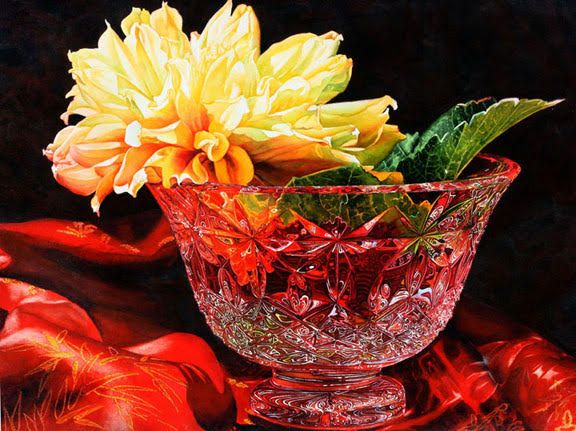 Course Description
Watercolor Group Studio Exercise
The class will learn how to create an image of a cut crystal bowl in watercolor in a step-by-step process. To speed up the class exercise, Soon Warren will provide a reference photo and drawing for the group exercise. Following a painting demonstration, workshop participants will do their own painting in order to fully understand the process. While concentrating on technique, the concept of color theory, composition, and color values will be incorporated into the workshop.
For the second project, to loosen up, the pouring process to paint with a choice of animal or cat that I will provide for practice.
Workshop participants will learn:
• Glazing and washing techniques to create a luminous under-painting
• How to utilize light and dark values in order to capture the sparkle of glass
• How to approach a painting
• How to incorporate the concept of color theory and color relationships into a painting
• Discussion and critiques will follow during workshop session
• In addition to the group exercise, participants are encouraged to bring current pieces to paint along with reference photos. To make the most of instructional time, prepare the drawing before the workshop.
To learn about the process of how to paint the same crystal bowl before the workshop, read the step-by-step painting process of same crystal in my second book, Painting Vibrant Watercolor: Discover the Magic of Light, Color and Contrast. You can purchase the book at major bookstores or on Amazon.com.
ABOUT THE INSTRUCTOR
Soon Y. Warren is a full time artist, teacher and workshop instructor nationally and internationally. She has an Associate degree in commercial art from Thomas Nelson Community College in Hampton, Virginia. Soon Y. had numerous exhibitions and earned numerous awards. Soon Y. is a signature member of National Watercolor Society (NWS), American Watercolor Society (AWS), Southern Watercolor Artist (SW), Texas Watercolor Society, Purple Sage Brush (TWS), Transparent Watercolor Society (TWSA), Watercolor Honor Society (WHS), Rocky Mountain Water-Media (RMNW), and Society of Watercolor Artist (SWA).
Her paintings and articles published in Artist's Magazine, Watercolor Magic Magazine, North Light Book, Southwest Art Magazine, Watercolor Artist Magazine, International Artist Magazine, The Art of Watercolor, and Pratique des Arts.
Also, her paintings were included in Splash: The Best of Watercolor 8, 10, 11, 12, 13, 14, 15, 16, and will be in 17, and published in Strokes of Genius: The Best of Drawing of 3 and 4. She published in two watercolor instructional books;
"Vibrant Flowers in Watercolor" with F&W Publication, (North Light Book); "Painting Vibrant Watercolor: Discover the Magic of Light, Color and Contrast (North Light Book); Participated in the book, "Watercolor Secret," with one chapter, "Create Drama with Bold Composition." She also created 3 DVDs; Top Vibrant Watercolor Techniques; Vibrant Watercolor Techniques Painting Glass; Vibrant Watercolor Techniques Painting Water.
er paintings were permanent collection of private and educational institution in national and internationally
She is represented by Your Private Collection Art Gallery Granbury, Texas and Southwest Gallery in Dallas, Texas
e-mail: soonywarren@gmail.com
web site: www.soonwarren.com
Supply List
"You don't have to wet your paper and stretch watercolor paper. Just draw and apply masking fluid on it as instructed as noted on 2nd page."
- Nos. 4, 6, 8, 10, 12 round brushes
- Scrub brushes (preferred with various size of synthetic Bristol brushes)
- 2", 2.5", and 3" hake brushes for washing technique
- 140 or 300 lb. Cold-pressed watercolor paper (Preference: Winsor & Newton or Arches) on a hard board ( size of the paper: a half sheet, 15"x22")
- Palette
- Water Bowl
- Cotton rag (preferred) or paper towels
- Reference photo – main workshop photo provided (something you want to paint)
- Mechanical pencil with .5 mm HB lead and an eraser
- Spray bottle
- Masking fluid (Winsor & Newton "Art Masking Fluid" yellow tinted preferred (DO NOT buy Permanent Making Fluid))
* Note: bring all the material you normally use for painting, especially brushes and paints.
Color Palette
Aureolin
Cadmium Yellow Medium or Cadmium Yellow
Permanent Alizarin Crimson (Winsor & Newton)
Hooker's Green
Indigo
Permanent Rose or Quinacridone Rose
Prussian Blue
Cerulean blue
Sepia
Scarlet Lake (Winsor & Newton)
Bring your own paint tubes even if it is not listed above.
During the workshop, you will learn to use glazing and washing techniques to create luminous, brilliant colors of crystal and red silk background in your paintings. You will have a "hands on" painting experience while learning the concept of color theory and relationships as well as layering, washing, glazing colors, and detailing to finalize the painting. Bring all the materials you regularly use for painting, especially brushes and paints. The list above represents only the very basic necessities for painting.
supply list continued
To prepare drawing for the workshop
(Tulip and Crystal)
First: drawing- Trace the provided drawing onto the 140 lb. or 300 lb. cold pressed, half sheet (15"x22") watercolor paper (Winsor & Newton or Arches). You can use a digital projector with a drawing image or reference photo, a light box or a black graphite paper to transfer or trace or free draw. Method of transferring image onto watercolor paper is all up to each participant.
Or if you don't have light box, use sunny window. Place the drawing on the window (tape the corner to secure it), then place the watercolor paper on top of it (tape the corner to secure the paper also). You can enlarge the provided drawing at the Kinkos or Office Depot. If you don't have any access to any of those, let me know, so I will provide with physical drawing.
Second: Attach watercolor paper on a sturdy board
Use 0.5mm HB mechanical pencil. Trace very gently and lightly with very thin lines. Don't press too hard. You just need light line drawing of the shape.
Third: Frisket or masking fluid (saving highlight and lighter color of the lines in the crystal bowl and yellow embroidery on red fabric, and also in highlight of leaf and flower.) Please, refer to the masking application sample photo.
Tool:
Apply masking fluid on the white highlight, light pinkish, light bluish or any other light color in the crystal bowl. Try to apply thin frisket line on the design of the bowl to save light area. Look at the reference photo to guide you where the highlights are. Also, apply masking fluid on yellow design on the red silk fabric. Try as best as you can, and before we will look at the prepared painting before the first application. Relax, please!
Use very thin stick, slanted - tip of brush handle, frisket application tool. Look at the sample photo of application. Lighter yellow lines and dots are masking fluid.
It will be tedious work and time consuming, and if we prepare this steps, It doesn't have to be perfect, but try to make it work. I will discuss about the making fluid in workshop first day and will have time to correct if it is necessary. it will save a great deal of workshop time, so we can start to paint right away.
* If we have time, we will look over finished and unfinished paintings for a critique. So bring them to the workshop.