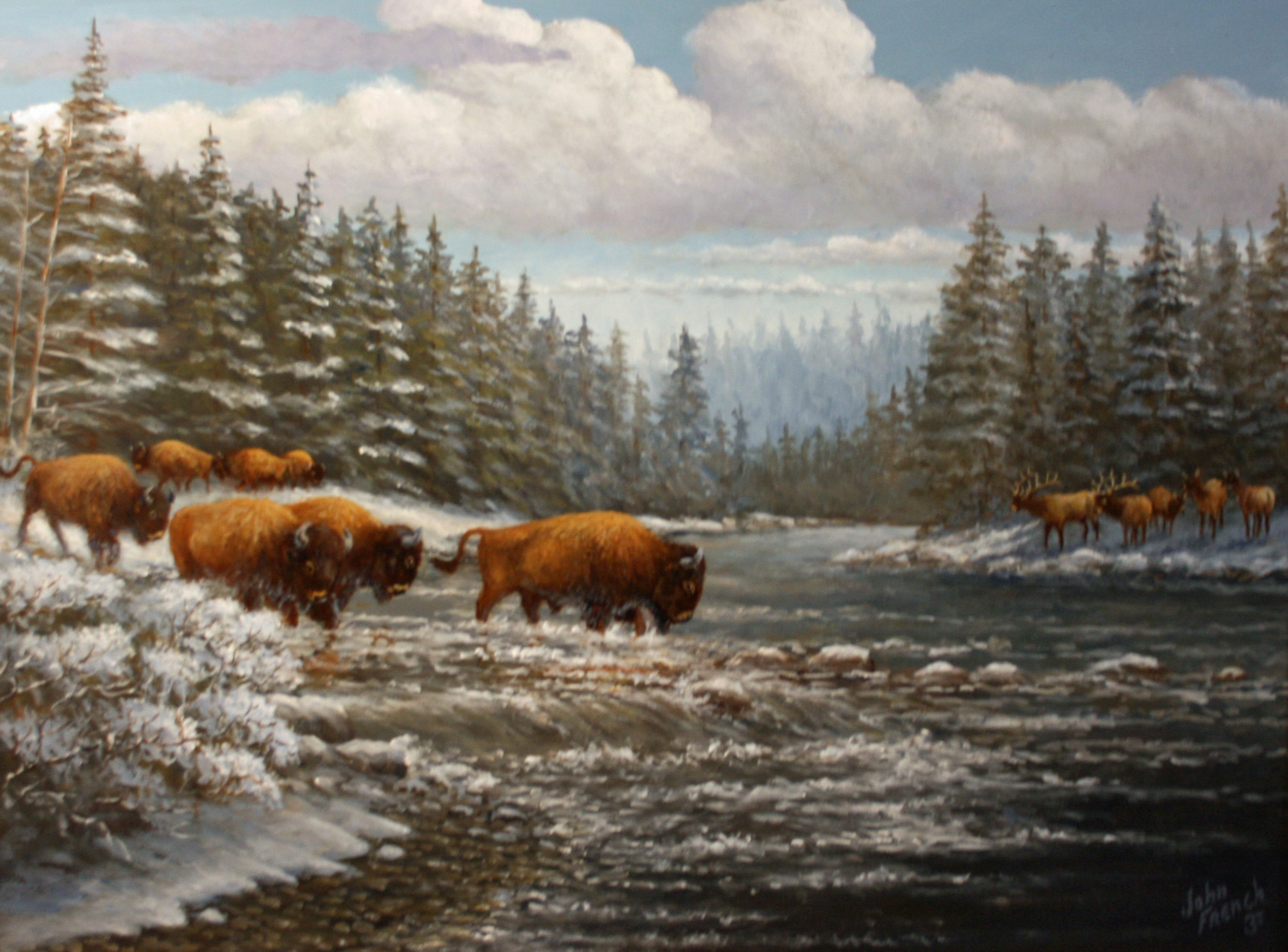 John French
Although born in Waco, Texas, in 1936, most of John French's boyhood years were spent in West Texas and New Mexico. There he grew to appreciate the rustic, weather-beaten cowboys and Navajo Indians that lived there. He learned about their native lands, traditional ways of life, and their animals.
French's only art training was self-taught as a child, starting with colored chalk, then water colors, oils, and acrylics. He graduated from Waco Tech High School in 1954, and then married his high school sweetheart, Wanda Burns. When Uncle Sam sent his "greetings," French joined the Air Force for four years, stationed in Laredo, Texas. They returned to Waco in 1958 with their two year old son, Jeff, and the following year their daughter, Deana, was born. Throughout the '60s, French worked as an auto mechanic during the day, and painted in his spare time. In 1960, both Jeff and Deana were diagnosed with A-T (a genetic disease); Deana passed way in 1968, and Jeff in 1971. It was around this time that French decided to become a full-time artist. Six years later, after twenty-three years of marriage, Wanda died of asthma. French now lives in Ross, Texas, with his second wife, Donna, whom he married in 1978, their daughter Jennifer, and their mule, horses, dogs, cats, sheep, and cattle.
French's subject matter varies from fine colonial mansions to crude settlers' cabins, from all
types of wildlife to peaceful Texas landscapes. The same themes and variety appear in his bronzes. All his work has had many hours spent on research to assure historical accuracy. Many of his paintings are from his experience as a ranch worker and working teams of horses and mules.
French's work is known throughout the United States and most of Europe and Asia. Some of his paintings that are on permanent display can be seen in the International Bank of Japan in Tokyo and the Texas Rangers Museum in Waco. He illustrated the book Women of Texas and he painted the picture from which the poster and bookmark for the National Library Week were made. One of French's paintings is on the cover of the Texas Rangers Museum Catalog book. He also painted the commemorative painting of the original meeting house of the Texas Farmers Union hanging in the National Office. One of his bluebonnet paintings was presented to the First Lady Rosalynn Carter by the Texas Chapter of MHMR. He was featured in the gallery section of the Western Horseman magazine. French was one of thirty-five western artists chosen nationwide to participate at the Pendleton Round-up Art Show in Oregon. Collectors of his works include well-known politicians, movie stars, professional athletes, coaches, and Arabian dignitaries.