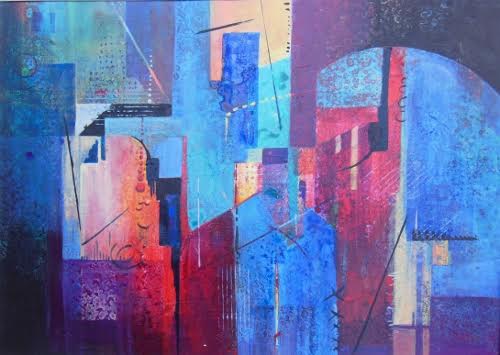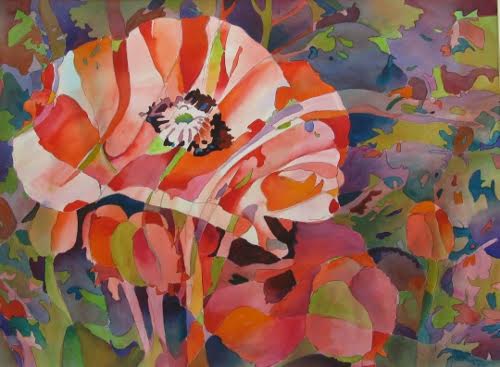 Jane Jones
Jane E. Jones is a versatile painter who works in watercolor, acrylics, collage and mixed media. Her watercolors are both impressionistic and abstract while her acrylics are non-representational. Her non-representational work is strong in design with use of color, texture and value.
She is originally from Pennsylvania, painting over 40 years and studying with over 80 leading artists throughout the United States and Europe. She has lectured and been a juror for more than 60 art organizations. She has made her mark in the watercolor field with her abstract landscape paintings winning many awards.
Jane's abstract landscape paintings come from the influence of farm life in Pennsylvania with the expansive landscape of hills and mountains. Having a summer mountain home in a small town in Colorado she paints the beauty of the mountains, trees, flowers and water scenes both impressionistically and abstractly.
She lives in Dallas during the winter months, teaching and painting mostly non-representational works on paper and canvas, using many experimental techniques. She hopes to translate and transpose her feelings onto paper and canvas through the use of paint and collage.
Jane's recent awards include SWS 2015 Ed Whitney Award, Best of Show SWS for 2014 & 2012, Finalist in Artisan Search 2011, SWS 2011 Liquitex Merchandise Award, 2010, 2009 & 2008 Awards.
Other awards include WFS 2003 Award of Excellence, NOW 2001 HK Holbein Award & NWS 1998 HK Holbein Award, Best of Show 1998 National Watercolor Oklahoma, Invited Artist at the Forbes Trinchera Ranch, The Forbes Gallery Show - N.Y. and California, International Society of Fine Art - Paris, France, and Watercolor without Boundaries - Milan, Italy.