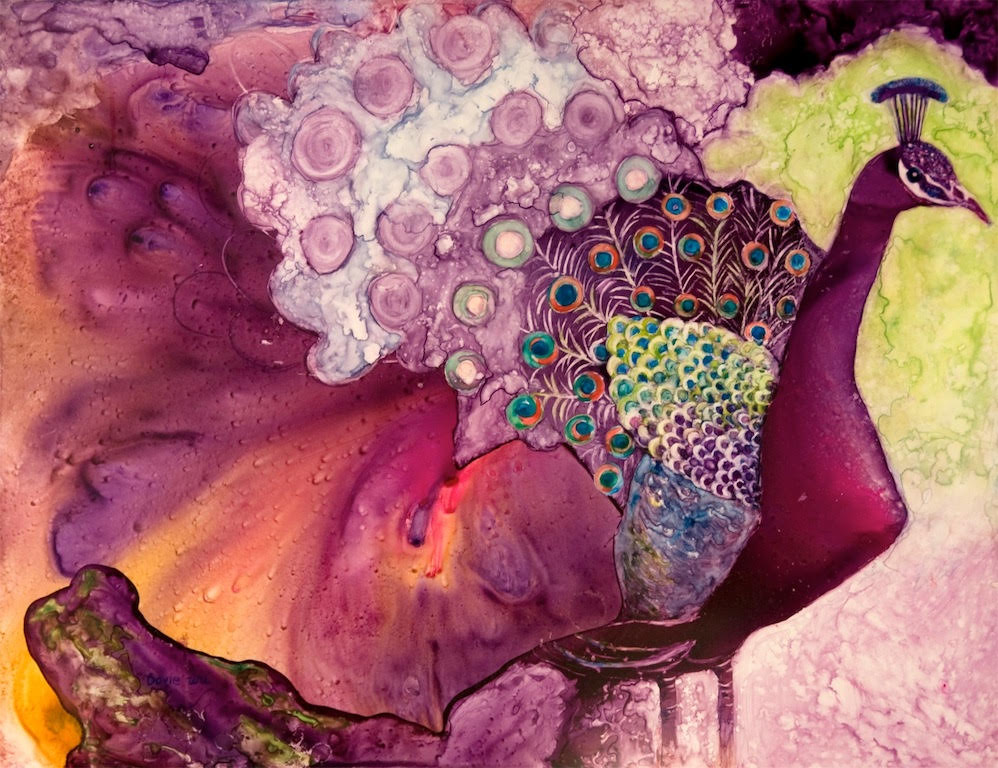 Course Description
The class is designed to teach students how to paint watercolor on yupo paper in both non­objective and impressionistic designs. The students will paint/pour watercolor on Yupo, then decide on the design (figurative, landscape, non objective). Students will learn the techniques of texturing, printing, adding and subtracting. The goal is to discover the numerous possibilities of how to use yupo paper to complete a design of your choice, and to have fun in the process!
About the Instructor
Music and dance are Dovie Wu's lifelong interests which have greatly influenced her work as an artist. She enjoys painting figures and trees as she believes that, through these subject matters, she can best convey movement and sensibility. Dovie often explores different painting styles, incorporating multi­media and different supporting surfaces. She especially enjoys painting in watercolor on yupo.
SUPPLY LIST
PAPER - A FEW SHEETS OF MEDIUM WEIGHTYUPO PLATIC PAPER. 20" X 26" IS RECOMMENDED. AVAILABLE @ CHEAP JOE'S, OR LOCALLY AT ASEL ART SUPPLY.
PAINT – INDIGO, QUINACRDONE ROSE, WINSOR RED, COBALT BLUE, ULTRMARINE BLUE, THALO BLUE, HANSA YELLOW AND NEW GAMBOGE (M. GRAM WATERCOLOR PAINT WILL NOT WORK ON YUPO PAPER) AMERICAN JOURNAL FORM CHEAP JOE'S HAS THE BEST VALUE.
- ONE LARGE TUBE EACH OF WHITE AND BLACK GOUACH
BRUSH – 1". 2", 3", 4" INCH FLAT BRUSHES
CRAYONS – BLACK, RED, WHITE (optional)
TOOL AND EQUIPMENT – TEXTERING MATERIALS, STENCILS AND STAMPS. (BUBBLE WRAP, OPEN WEAVE MATERIAL , ANYTHING THAT CAN BE PRINTED ON WET PAINT)
THREE SPONGE ROLLERS (4" WIDE) FROM THE HARDWARE STORE, MASKING TAPE, PALLETE, WATER CONTAINNER, SCISSORS, AND ANY OF YOUR FAVORITE SUPPLIES.
2BOARDS --- 1/8" OF WHITE MASONRY BOARD( 24" X 28" OR LARGER) TO SUPPORT THE YUPO PAPER. HOME DEPOT WILL CUT DIFFERENT SIZES FOR YOU.
WATER CONTAINER, PAPER TOWEL, A BOX OF KLEENEX
*The instructor will share some texture materials with the class.
Wednesdays 1:30 pM-4:00 PM
session 1:
9/14, 9/21, 9/28, 10/05
SESSION 2:
10/19, 10/26, 11/02, 11/09