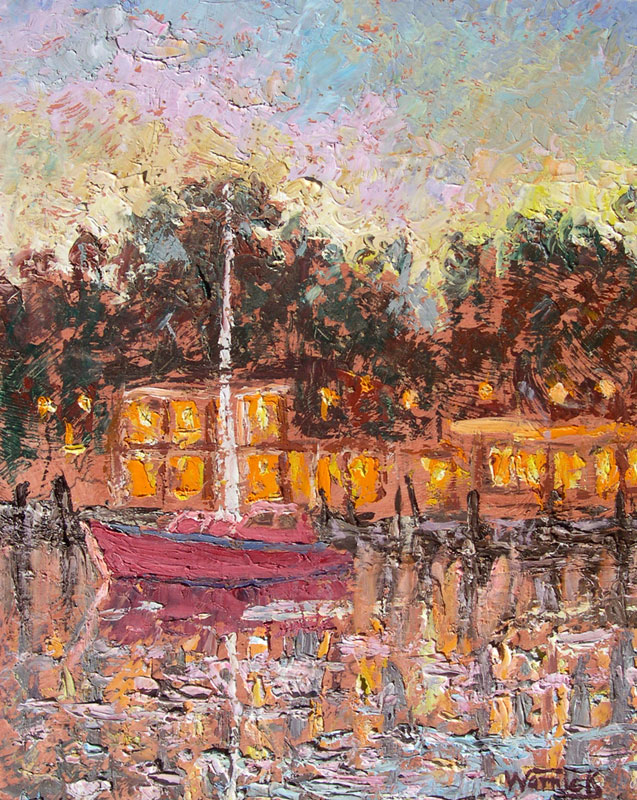 Hal Warnick
From flickering golden light and shadow, patterns on old windows and buildings, to vibrant reflections of boats in water, the oil paintings of Hal Warnick evoke feelings and emotions in the viewer, rather than just being a reproduction of a scene. "I feel this is one of the gifts art should give, along with helping us to see and appreciate the beauty around us," says Warnick. Strength of design, color, and contrast in Warnick's paintings make impressions that are uniquely his.

As stated by a writer from a Dallas area newspaper story, "Realism without clutter, the world stands reborn on a Warnick canvas, devoid of the displeasing as envisioned by this modern day romantic. Like the James Bond movie where the hero never dies, his canvas world is endlessly recreated without the drab or the ugly. His very own kingdom of beauty, sunlight, and shadows, with Warnick as the supreme ruler with the Midas touch, expresses his nostalgic optimism."

Traveling extensively, Warnick paints on location and seeks new material for future paintings all over the United States, as well as abroad. His increasing number of individual and corporate commissions includes an ongoing series of ten paintings to date involving historic Texas courthouses commissioned by a Dallas law firm. Each painting is different in design, mood, and the feeling it evokes. Another recent commission for the city of McKinney, Texas, is a series of paintings capturing the town's heritage.

After years of study and work, Warnick became a full-time artist in 1982. Winner of many awards for his work, he has been interviewed on television several times, and has been the subject of numerous articles in several magazines including American Artist and Texas Aggie. He was a finalist for the Texas State Artist of the Year as selected by the State Legislature that included showing his paintings in the State capitol. His work now hangs in private and business collections in most states and several foreign countries.