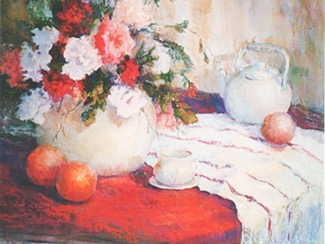 CLASS DESCRIPTION
This class will cover the basics of a good painting in any medium. The instructor will demonstrate in oils and pastels. (Students may select his or her medium.) Design, balance of color and temperature, depth through gradation in color and value will be emphasized. Students may work from the instructor's still life set­up or bring a landscape photo of his or her own. The Instructor will supply still life set-ups. If you prefer to do a landscape please bring your own photos.
Supply List - Pastels
Paper –
Canson neutral colors – no bright colors
If you are used to working on a sanded ground, bring what you
are comfortable with.
Board to clip and hold your paper. (Foam core will work)
Clips
Kneading eraser
Paper towels
Good supply of pastels
Easel
Small trash bag
SUPPLY LIST - OIL PAINT
Cadmium Yellow Light
Cadmium Yellow Medium Grumbacher
Yellow Ochre
Cadmium Red Light
Burnt Sienna
Alizarin Crimson
Ultramarine Blue
Cobalt Blue
Viridian Green
Ivory Black
Permalba White
Canvas Board 9x12 or 11x14
Pallette Paper
Turpenoid (odorless turpentine)
Brushes
ABOUT THE INSTRUCTOR
Janice Hamilton is a well-known Dallas artist who enjoys the influence of light and color using both oils and pastel.
Using her degree in education, she has taught in both public schools and Continuing Education classes for Richland and Brookhaven. She has given programs and taught workshops for numerous Texas art organizations and has judged many art shows, including the Dallas Business Community for the Arts, Richardson Art Societies Youth Show and TAPPS.
She has won numerous awards, has had one-woman shows, is a signature member of Associated Creative Artists (ACA), the Pastel Society of the Southwest (PSSW) and Texas and Neighbors Regional, and has been named as one of the "Master Pastel Artists of the World" in the International Artists Magazine.
Janice is past president of both ACA and PSSW.
Tuesdays 1:30 PM - 4:00 PM
Winter Session:
1/31, 2/7, 2/14, 2/21, 2/28, 3/7
Spring session:
3/28, 4/4, 4/11, 4/18, 4/25, 5/2
SUPPLY LIST
TUPINOID ONLY

Permalba White

Cadmium yellow medium (Grumbacher) Cad

red light

Burnt sienna

Alizarin crimson

Ultramarine blue

Cobalt blue

Viridian Green

Black

16x20 canvas

Brushes several sizes
*Michaels has some very reasonably priced brushes that will work